Stunning Katie | A real Halfpenny London Bride
We absolutely loved working with this week's real Halfpenny London bride Katie! She has become a friend since meeting her to design her wedding dress and was just an utter joy to work with and such a gorgeous bride. We were thrilled when her wedding pictures dropped into our inbox.
She wore the Marianne hand beaded & embroidered tulle dress and we think she looks utterly stunning! She also had the Annabel French lace tee to change into for dancing in the evening!
This is what Katie had to say about her Halfpenny London experience:
"Where to begin with the wonderful Halfpenny Team...
Fist of all I'm a Geordie girl in big old London.. And somewhat of an anti- bride. I'm not traditional at all and I love my clothes.. So I was looking for a fashionable look and not an obviously 'bridal' dress."
"Our wedding was at Aynhoe Park which is an incredible stately home filled with a magical, eccentric and dramatic collection that cannot be described unless you see it.
My dress or dresses had to fit into a venue where there is a giant giraffe is suspended by a bunch of white balloons...need I say more.
So onto the wonderful Kate and her boutique. I was sent to Kate by a friend and I am so pleased that I did as she is now a friend and the whole experience was just incredible.
I'd been to many of the obvious places - high end and mid range and I generally felt like another bride and was not inspired by the boutiques, the dresses or the accessories..
When I arrived at Halfpenny London the window was styled beautifully as was the shop and when Kate started to pull out the heavy silk slips, stunning appliquéd skirts and vintage lace t shirts I knew I'd found the place.
The whole team are kind, passionate, stylish and have an eye for detail that makes the difference between looking good and looking incredible.
I opted for two looks in the end all based around a heavy backless slip that could be worn alone (and I will wear it again one day with a red lip, high heel and a glass of champagne!)
The first look and overlay was just stunning and perfect for Ayhnoe Park. Capped sleeves, encrusted, embroidered with intricate detail that made it feel magical."
"The second look was more relaxed for the real party. I wore a beautiful vintage tee over the slip. I changed my feather headpiece for another stunning bespoke Debbie Carlisle jewelled piece, scooped my hair into a messy bun, piled on the vintage stack of bracelet from Kate's boutique and topped the look with a red lip."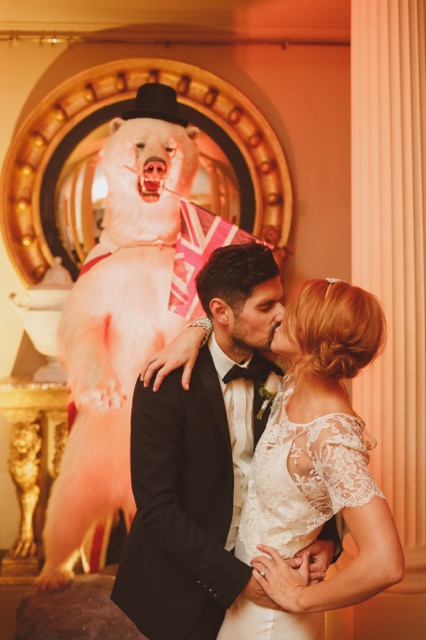 "Kate and the girls are not your regular bridal team. I felt so welcome, as did my friends and family. The boutique homes a curated selection of stunning, hand crafted pieces that will make you feel nothing short of perfect on your wedding day.
I genuinely felt cared for. The girls not only styled and dressed me for the day- they were invested in it! They wanted me to rock it. And I think I did them proud...
K x"
Thank you so much for your kind words Katie! We wish you all the love and luck in the world! xx